New York iPhone Cracked Screen Repair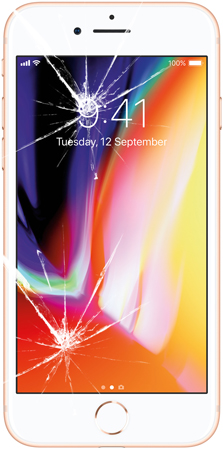 We have seen far too many cracked iPhone screens. The good thing about this is that we know how to deal with them. We know exactly what it takes and how to fix the cracked screen. So, here is the opportunity you have been looking for: the New York iPhone Repair team is highly dependable and eager to repair your cracked screen. If you want repairs done to your iPhone but don't want to spend more money than necessary, New York iPhone Repair is the right choice for you. Our iPhone repair experts will assist you at a minimal, highly competitive cost. Why waste your time at a repair center, when you can just send your iPhone over to us? At New York iPhone Repair we understand and value our customers. Cracked screens really take the fun out of an iPhone, whether it is the iPhone 3, 4s or 5.
An iPhone, simply put, loses its "touch" with a cracked screen – pun intended. New York iPhone Repair repairs cracked iPhone screens. A cracked iPhone screen does not look good even if it does still function. It doesn't matter how your device happened to be damaged – we can and will fix it. Trust us with all of your iPhone repair needs. Whether you have water damage issues, dropped call issues, software issues or any other repair related issues with your iPhone, we can help.
New York iPhone Repair wants to help all of New York to make the right decision and have us repair their iPhone which they have come to depend on. We are waiting for you to come and get your cracked screen fixed at New York iPhone Repair.  Fixing a cracked screen has never been easier - with our dedicated team and our superior replacement parts, it couldn't possibly be any easier for you!  There is an incredibly high demand for iPhone repairs, and we can handle them. New York iPhone Repair is here to make sure you are not affected. We can practically build the iPhone ourselves because we have done so many repairs. We are ready to cover the high demand for iPhone repairs. We repair iPhones with all sorts of issues. Trust New York iPhone Repair middle name. 
New York iPhone Repair is prepared to fix your cracked iPhone screen. Don't let a cracked screen cost you too much money. iPhone 5 users and iPhone 4 users who have a phone with a broken or scratched screen can bring us their iPhone and will be pleased with the competitive cost. New York iPhone Repair will repair your iPhone. Once again we invite you to make the right choice and choose the best, and that is New York iPhone Repair. No matter how your iPhone screen got cracked, make sure you bring it to the most trusted experts to fix it. Bring us your iPhone today. We look forward to supporting you with all of your iPhone repair needs.